The New Year's Mom Hangover
Let's talk hangovers. Specifically the non-drinking, post-flu, no-energy-to-do-anything-at-all kind, which doesn't bode well for the whole IT'S A NEW YEAR! LET'S DO THIS THING! HIGH FIVES DOWN THE LINE!
I actually forgot I had a blog while on break. I forgot I had this little nook, that my livelihood depended on me writing things and posting them, probably because I spent the better part of the last two weeks at my parents' house watching movies and making gingerbroad (Get it!? Because, ladies?) and mastering "Fools Rush In" on guitar, because, really, who doesn't need more Elvis in their ears?
RELATED: What My Daughter Taught Me About Giving
The holidays are such a lovely exhale for so many of us, but for many MORE of us, we often forget we have to take a breath again and, you know, get back to it. I mean, it literally feels like pulling teeth today trying to get this post out of my fingers and onto my screen. I wish I could say that breaks are "just what I need to get going again," but I am completely the opposite. Breaks are just what I need to not want to ever do anything constructive again.
Which is why I'm in the same pajamas I've been wearing for three days. Because, UGH, clothes. Are you really serious right now? I cannot with you, bras. I cannot!
And yet, this is the ONE time of year I become extremely good at lists. I make lists of the things I should be doing right this very second, but I make them for tomorrow.
Phone calls need to be made? Add that to tomorrow's list.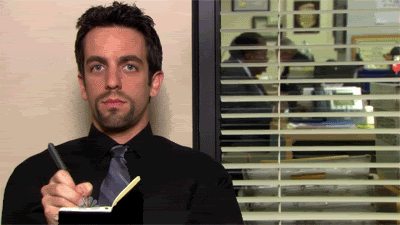 Books I want to read that I very well could be reading right this very second? Add them to the list! Lists and lists of lists with lists and lists of things to list on tomorrow's list. List.
Stuff I need to return/shop for/sign up for/show up for/get off the couch for?
LIST.
Run out of lists?
Make a list of things that could, theoretically become lists?
GIFs aside (not really—there are more coming), coupling a new year's hopes and dreams with the recent surge in storm activity makes it even worse. (We haven't had rain in 40 years in LA so I'm basically paralyzed and cannot do a damn thing besides watch the rain and talk about how wet it is and cozy and "Here, let me make another list.")
Anyway. My point of this post is really to ask YOU what you are interested in reading about here in 2016. If there are specific conversations you would like to have, recommendations you are looking for, advicey stuff you seek. I would love to better serve this audience this year. Dig deeper, perhaps. Introduce new voices and stories and experiences beyond mine.
Aka, do something new.
RELATED: Talking Gun Control
Videos, maybe? Are you guys into video? Interviews? Posts written entirely in emojis and GIFS? (Or maybe even Wingdings?)
Please:
1. Make a list.
2. And type it below.
3. Thank you.